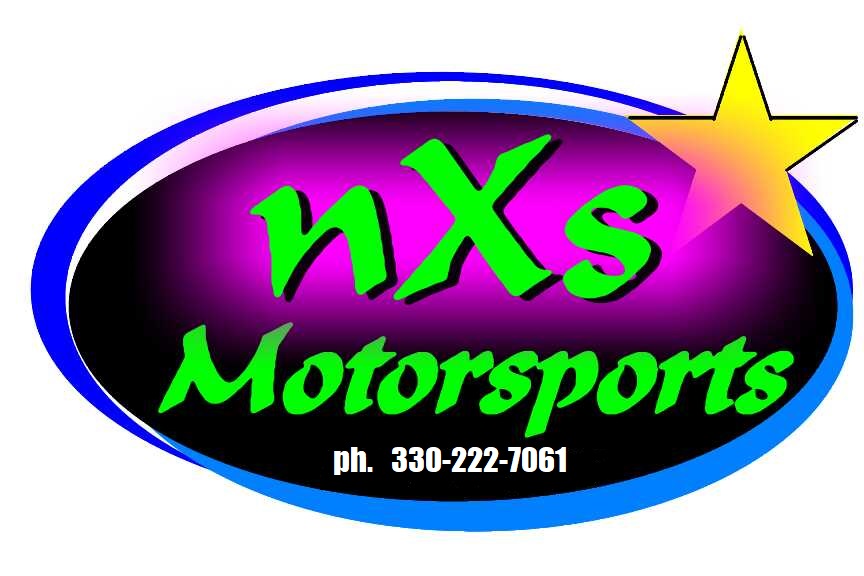 NXS MODLITE AND IMCA CHASSIS PHOTOS
Information on the 2017 nXs Chassis includes:
Bolt on front clip, bolt or rear clip, trailing arm brackets can be changed to driver preferences of longer to shorter trailing arms. Front steering box bracket is a heavier bolt on bracket that is not attached on the front side. This helps the steering from becoming damaged in accidents of racing. Front bumper mounts are also bolt on. Fuel cell can be moved left to right. Rear shock on left side can be mounted in front or rear of rear axle. Our steering column mount is fully adjustable. Left to right, closer or farther away from driver and up or down. We have built the car to allow for a stock bike header use if a owner prefers. However use of the mod lite style headers still fits properly with no issues.

The steering shaft is 3/4" double D style shaft. We designed this for a stronger shaft and easy install and repair if needed. We have kept the front clip main left and right tubes at a taller level to help protect the engine and throttle bodies in case the car get upside down. Of course we never want to see anyone be in a flip, or bad accident. But just in case we have tried our very best to built a strong cockpit that is safe. and chassis features that will protect the driver and important parts of the car, (such as the motor).

WE have also built into the chassis the ability to use a forward or rearward mounted 3rd link. These car will be available with IMCA or Mod lite bodies. This car has been welded together by a certified welder with time and care and we spent many of hours in the design. We think it too be a very good car at a GREAT PRICE. We plan to allow for several options to give the customer a car with parts installed on it that the owner wants. Not what the manufacture chooses to use.

Chassis and body kits with nerfs and bumpers are $5200.

Low Budget Rollers are $12,000 range

Complete roller with everything except motor and motor components (header, driveshaft adaptor, air filter, harness, etc.) and drivers seat is $18,000 price range.

Depending on motor choice a complete race ready cars with stock GSXR motors will be in the $22,000 to $26,000 for built motor price.

Some cars maybe slightly higher or lower depending on option costs a owner might prefer. We have Modlite and IMCA modlite body styles available. Call for exact pricing with options you prefer. Please contact us with questions or concerns.