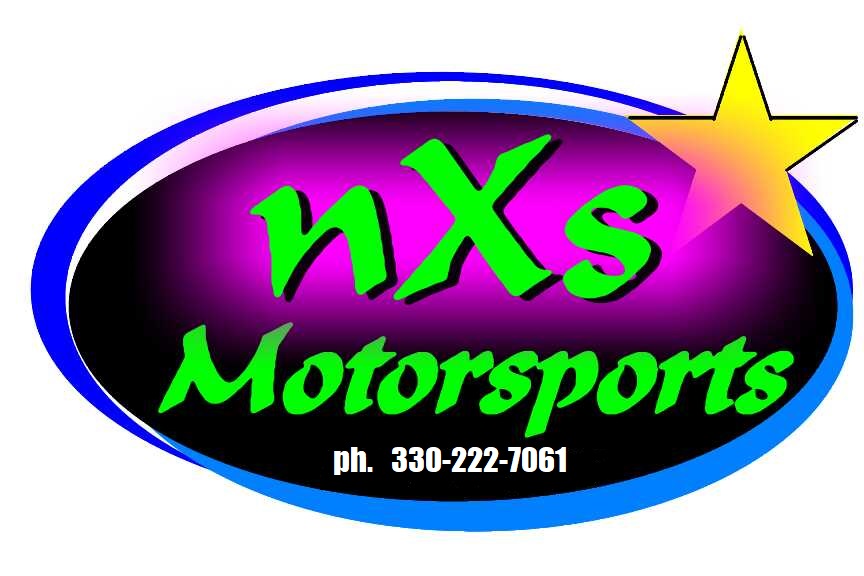 NXS Motorpsorts About Us Page.
Thank you for visiting our website. We would like to give a short message of who we are, where we are from, and what we hope to do with this website. Shop hours are 10 am to 5 pm EST Monday-Friday. From time-to-time you might catch us in the shop after hours and on weekends. Saturdays we race and Sunday take time to rest, clean up after races, and spend time with the family.

We are located in N.E. Ohio in the town of Hanoverton...Our phone number is listed above. Our email is nxs_motorsports@yahoo.com and fax is 330-222-7064.

Sometimes we can't get to the phone as we are busy building parts or packaging items to ship. So please leave us a message anytime and we will call just as soon as we can. We have been racers ourselves since 2002. And specialize in GSXR motors. We hope to grow this website larger and larger to be able to provide quality at the lowest possible price.

We are proud to be the Ohio area Pro Chassis dealer.
We have been shortening GSXR harnesses for around 10 years now and have done for most all chassis builders and several engine builders. We think you will not find a better quality wire harness trim service. We mainly shorten GSXR harnesses for dwarf and modlite race cars. But have also done them for hill climbing bikes, 4 wheelers, rail buggies, razors, mini sprints, mini indy cars, and more.

Our shop is approximately half of a 5000 sq. foot building, so we do have room to grow. We have several items that we have machined just for us. And do some in-house machining and welding. We install motors and can build the entire car if needed. We also sell used cars that we have purchased from time-to-time.

We also sell other racers cars here on our website. As you visit us, purchase from us, and become a loyal customer; we will try and give you price breaks as time goes by. Of course we can't give away things but we will try to help the loyal customer.

Our home track is in Deerfield, Ohio. We do race and will be found at other tracks this year. We did go to Eastbay Raceway this year and finish 7th in the World Championship Race. We wished to have done better, I'd like to thank Levi Spinneweber for driving in Florida for us. It was his first time ever in our car and I think he did really well under the circumstances. With his help our car got better each night out until the last night while running 4th we developed a miss in the motor and Levi thought it was best to pull off the track rather than get in the way of faster cars. We plan to visit Sharon Speedway if they race any this year. But will also be at Mercer, PA, Hilltop in Millersburg, OH as well as Tyler County, W.V. We hope to also visit and race in Canada and a few other tracks this year. Please stop by and say hello any time.

We have a ton of car parts in stock, also GSXR 1000 motorcycles, GSXR 600, 750, and 1000 motors and bike parts for sale. Including things modlite and dwarf car racers do not use, such as, gas tanks, forks, sub frames, fenders, rims, calipers, brakes, handle bars, lights, electrical parts, and much more. Please ask if you need any GSXR bike parts from 2002-2008.

Thank you kindly for your time and we hope to be of service in the future for any of your racing needs.